Louisiana Criminal Defense Attorney
Elizabeth B. Carpenter, Esq. — Serving clients in Orleans, Jefferson, Terrebonne, St. Bernard, St. Charles, St. Tammany, St. John, Assumption and Plaquemines Parishes.
NOPD Officer Who Shot Unarmed Pot Suspect in Gentilly is Identified
By Brendan McCarthy, The Times-Picayune
New Orleans police officials confirmed Thursday that the 20-year-old man who was fatally shot by a plain-clothed narcotics officer during a drug raid at a Gentilly house a day earlier was unarmed. New Orleans police officer Joshua Colclough, 28, fired a single shot Wednesday evening that killed Wendell Allen, 20. Police officials were guarded in their comments about the shooting Thursday, citing the ongoing investigation.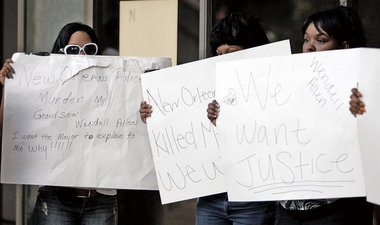 Ted Jackson, The Times-PicayuneFamily members protest in front of NOPD headquarters during a news conference Thursday concerning the shooting of Wendell Allen. Allen's grandmother is at left, his sister Karen Allen is at center, and his aunt Crystal Butler is at right.
"We have not been able to yet completely understand what exactly occurred," Police Superintendent Ronal Serpas said Thursday.
The shooting took place inside a red-brick, two-story home at 2651 Prentiss Ave. in Gentilly. Officers were executing a search warrant at the home following a days-old probe of marijuana dealing. Serpas said officers later found drug paraphernalia and 138 grams of marijuana — about four and a half ounces — inside the residence.
It was the second fatal shooting of a suspect by police within a week in the NOPD's 3rd District, a relatively sleepy swath of residential neighborhoods that stretch from Lakeview through Gentilly. In last week's incident, in Mid-City, two officers were badly injured in a gunfight before the alleged gunman, 20-year-old Justin Sipp, was killed by police gunfire.
The response of city leaders to the two incidents, not surprisingly, has been markedly different. After last week's shooting, city and police leaders gathered at a news conference. They called the the officers heroic, making clear that they believed the cops were provoked by civilian gunfire and that the officers' actions appeared justified.
Officers are permitted to use deadly force, such as firing a gun, when they have a reasonable belief that they or somebody else is in imminent danger of death or bodily harm.
But on Thursday, NOPD officials offered no real narrative to explain what, if anything, prompted Colclough to fire on Allen, a former standout high school basketball player. Police officials repeatedly offered condolences to Allen's family, while vowing to conduct a thorough, transparent investigation.
Serpas acknowledged that Allen was unarmed, that he was shot in the chest by a police officer, that narcotics officers were searching for drugs.
"We still have very many questions to answer," Serpas said. "We will ensure and commit to our community that we will do so in the utmost of transparency and in the collaboration with our partners in the federal government, our partners in state government, and our supportive relationship with the independent police monitor."
The investigation that led officers to the Prentiss Avenue home began earlier this week. A confidential informant for a Jefferson Parish sheriff's deputy tipped off police that a man named "Troy" was dealing marijuana from inside the home, according to NOPD's application for a search warrant. Police identified the alleged pot dealer as Troy Deemer, 19.
The warrant states that Jefferson Parish Sgt. John Pacaccio and NOPD Officer Michael Voltolina watched the house for a 48-hour period and saw several "hand-to-hand" drug transactions in the driveway.
On Wednesday, the officers allegedly spotted Deemer leave the home carrying a white package. They followed him to Jefferson Parish and stopped the pick-up truck after he failed to signal a lane change, according to Serpas. The JPSO deputies allegedly noticed a marijuana scent inside the truck. They called for a K-9 unit, and shortly later recovered a one-pound package of marijuana inside the truck, the warrant states.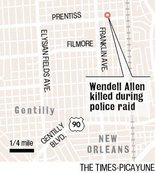 With Deemer in custody, the investigators sought to search the Prentiss Avenue house.
At 5:15 p.m., a New Orleans Criminal District Court Magistrate Robert Blackburn signed a warrant authorizing the search of the home, and authorizing the seizure of any drugs, particularly marijuana, or weapons that could be tied to a drug trade.
The search commenced shortly afterward, about 5:40 p.m. Wednesday, just before dusk.
Four JPSO deputies formed a perimeter in the back of the house, police said. Three NOPD officers lined the front of the building. Meanwhile, an NOPD sergeant and five other NOPD officers went to the front door, according to Serpas.
They were in plainclothes but wore "raid jackets" identifying themselves as police officers, Serpas said.
"Before they entered the residence, officers announced their presence and announced their intention to serve a search warrant," Serpas said. "Receiving no answer, they had to break the door."
The officers spread through the house.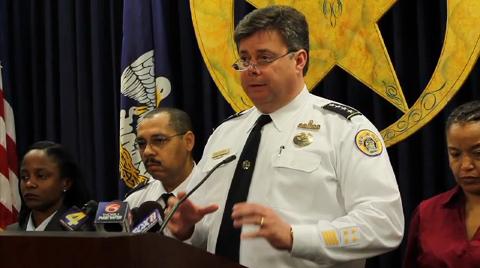 Serpas holds news conference on Wendell Allen shooting
NOPD Superintendent Ronal Serpas holds a news conference concerning the shooting of Wendell Allen.
"While some officers moved upstairs, a single gunshot was heard," Serpas added.
A single bullet struck Allen in the chest. It penetrated his lungs, heart and aorta, said Coroner Frank Minyard.
The lanky 6-foot 3-inch former basketball star fell to floor the in the stairwell. He came to rest on a landing. He died "almost instantly," Minyard said.
There is no evidence that the gunshot came at close range; there was no evidence of gunpowder on Allen's skin, Minyard said.
Allen's sister, 14-year-old Jazmine Jones, said her brother was shirtless, wearing only pajama pants. She said Allen was upstairs inside his room, and she was watching television with a younger brother, when police barged through the front door.
"As soon as they run upstairs, I heard a gunshot," Jones said. She described a chaotic scene, with mass confusion, as police spread through the home, guns drawn, and children scuttling about.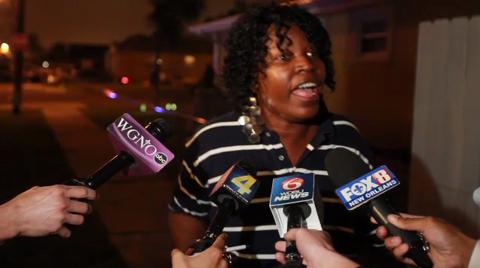 Grandmother of Wendell Allen speaks about her grandson
A 20-year-old man was shot in the chest and killed by New Orleans police who arrived at a Prentiss Avenue home early Wednesday evening with a narcotics search warrant, according to police and family members. The young man was identified as Wendell Allen, according to his grandmother, Deborah Allen.
"I don't understand why this happened," she said.
Police said that five children, ranging in age from 1 to 14, were in the house at the time. The children were taken to the Child Advocacy Center Wednesday night, police said.
Two men were detained inside the residence. Brandon Boles, 19, and Davin Allen, 20, were both arrested and booked with possession with the intent to distribute marijuana.
Serpas said officers recovered "digital scales, packing materials and 138 grams of marijuana," inside the home. Though Allen was unarmed, someone inside the house alerted investigators to a gun "hidden inside the house," Serpas said.
Officers later discovered a .380 caliber handgun. Serpas did not indicate whether the gun was legal or illegal, or whether it had been registered or stolen. Nor did he link it directly to Allen.
While Serpas released these details at a late-afternoon news conference at NOPD headquarters, Allen's relatives stood outside, holding signs aloft demanding justice for their loved one.
They alleged that the shooting was unjustified and called police "killers."
"They killed him for nothing," said Allen's aunt, Karen Allen, 32, of Sulphur.
Mayor Mitch Landrieu on Thursday pledged that the NOPD will conduct a "full, open and fair" investigation of the incident. In a midday briefing in his office, the mayor called the shooting was a "tragic event."
"My heart goes out to the family of the young man who was killed," he said, while declining to talk in detail about the facts of the case. Landrieu said he and Crime Commissioner James Carter met with Allen's mother and grandmother for about 45 minutes Thursday morning in City Hall.
"She was upset, obviously," Landrieu said about Allen's mother. "She lost her baby boy. She wanted to make sure that justice was done."
Landrieu repeatedly emphasized that two FBI agents are embedded in the NOPD's Public Integrity Bureau, which investigates officer-involved shootings along with the agency's homicide division. The city's Independent Police Monitor will also monitor the NOPD's investigation, he said.
Allen was a star basketball forward at the former Frederick Douglass High School, where he averaged 21 points per game in late January 2010. He made the Times-Picayune All-Metro team. He also played football at the school.
According to online court records, Allen was arrested in January 2011 on a felony charge of possessing marijuana with intent to distribute. He failed to appear for his first court appearance and was arrested three weeks later.
In March 2011, he entered an "Alford plea" — a plea deal in which the defendant is adjudicated guilty but does not actually admit guilt. Allen was given a five-year suspended sentence and credit for time served, the record shows, and released.
Other court records indicate that he had also been arrested on several minor municipal charges.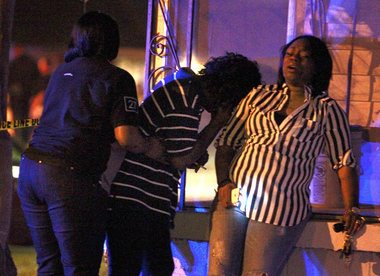 Rusty Costanza, The Times-PicayuneWomen grieve after Wendell Allen, 20, was shot and killed by a New Orleans police officer in the 2600 block of Prentiss Avenue on Wednesday.
Colclough, 28, began his career at the NOPD in September 2007. Before serving on the force he worked at the New Orleans Private Patrol in the Garden District, according to his application to the city. His personnel file is relatively thin; he received a five-day suspension for his role in a minor traffic accident. He was reassigned to desk duty in the wake of the shooting.
Raymond Burkart III, a spokesman for the local Fraternal Order of Police lodge, urged citizens Thursday not to rush to judgment.
"We don't know what happened. And we can't guess, we need to find out the actual facts," he said. "It's only a day after the shooting. This thing is being investigated by no less than three groups within the police department, the police monitor, as well as federal agents."
Burkart, while declining to speak about Colclough, said that serving a search warrant is a high-stress, terrifying situations for an officer. "You don't know who's on the other side of the door, if people are hiding, if people are armed or unarmed."
Please follow and like us: