Grief When a Family Member is Incarcerated
I just returned to my office after a difficult morning in court.  My client was sentenced to serve 25 years in prison for a crime that I believe does not merit such a harsh penalty.  This is an aspect of my work that I dislike to say the least.  Of course, I replay all my defense strategies in my mind, making sure that I did not fail my client along the way.  I also try to comfort the family members in this time of grief. In all honesty, I cannot say that I know what they are experiencing because I have never lost a loved one in the criminal justice system.  The only thing that I can imagine is that the pain is similar to the death of a loved one, only worse. 
Today, I would just like to offer some words of advice on how to make it through the first months after your loved one is sentenced to a lengthy prison term. I really think that someone should create a support group for families who are coping with the incarceration of a loved one.
1) Take it one day at a time — Your body, mind and spirit are totally consumed with pain.  Focus on today, tomorrow will come soon enough.
2) Drop the feeling of "normal" — Nothing is going to be normal for quite some time because what you are going through is not "normal." As time moves forward, you will adjust and experience a new "normal".
3) Brace yourself for many loses — The loss of a loved one in your daily life can start a domino effect of losses.  Personal possessions will be given away.  Relationships with friends and other family members may be strained. Don't be alarmed if one loss seems to escalate until you feel overwhelmed.
4)  Tell people what you need — people will not know how to relate to your loss.  Be specific about your wants and needs.  Ask for help.
5) Remember to eat — grieving affects the mind in many ways.  It requires a lot of energy.  You may not be hungry, you may forget to eat, but you need to keep your strength.
6) Sleep when you can — Your sleep most likely will be affected by your loss. You need sleep to function mentally and physically.  Take a nap if you are tired. Try sleeping in a different place in the house if you cannot sleep in your bed. See your doctor is sleeplessness continues.
7) Crying is okay — Let the tears flow either when you are alone or in public. Crying is a natural outlet to grief.
8) Exercise every day — Exercising will help you deal with the multitude of emotions that are rippling through your body. It will also help you sleep at night.
9) Seek support early — Get support through family, friends or a grief counselor. You don't have to walk through this alone.
10) Lean on your faith — If you are a spiritual person, remember to touch base with your faith. It will bring comfort, strength and internal wisdom. If you have no belief system, then get in touch with nature. The beauty of the world around us can be very soothing. Your faith will help your loved one cope better with being incarcerated.
Peace.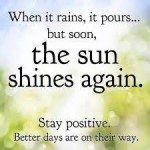 Please follow and like us: