7 Reasons Prostitution Should Be Legalized
By Elizabeth Bagert Carpenter — New Orleans Sex Worker Advocate
The subject of prostitution has been analyzed and discussed for thousands of years. It was around 5000 years ago that civilized societies started to regulate prostitution. Those in power decided to use the mutual exchange of sex for money to forward their tax base, provide a regulated and needed service and accept the fact that love for sale was here to stay.
In fact, it was not long ago that prostitution was regulated in the city of New Orleans in an area of the city that was known as Storyville.
Storyville was the "red-light district" of New Orleans, Louisiana from 1897 to 1917. It was established by municipal ordinance under the New Orleans City Council by Alderman Sidney Story, a City Councilman, who wrote guidelines and legislation to control prostitution within the city. This municipal ordinance did not legalize prostitution, but rather created a 16 block area of the city wherein prostitution was not illegal. The area was originally referred to as The District, but its nickname Storyville soon caught on. It was bound by the streets of North Robertson, Iberville, Basin, and St. Louis and was found between the French Quarter and Claiborne Ave. Since it was also located by a train station, Storyville was a popular destination for visitors and travelers to the city and became a centralized attraction in the heart of New Orleans.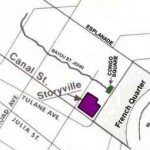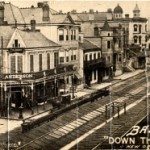 I say that we should return to the days of Storyville. The following 7 simple reasons why prostitution should be legalized, seem like a no-brainer to me.. It would result in a Win-Win for all parties involved; public and private.
1.  It would make both parties less prone to STDs: Legalization could require that all prostitutes take regular health exams, helping to ensure that she or he is not carrying a sexually transmitted disease.
2.  It would give the prostitute employment rights: Many prostitutes are at the financial mercy of a pimp, john or madam who often take more than half their income. Legalization would protect their rights and abolish this form of slavery.
3.  It would open the door to unionization: Unions would probably be the best enforcer of the industry. They would help ensure that under the radar (illegal, non-taxpaying, non-health exam participants) would stay off the streets.
4.  Illegal prostitution costs us money: While the costs involved are hard to estimate, it taxes the police force, the public defenders offices and the judicial system. All of these resources could be better utilized pursuing and prosecuting violent offenders.
5.  Legalized prostitution would pay: We could tax prostitution in the same way we tax hospitality and luxury services, often higher than normal sales tax.
6.  It can't be prevented: There's a reason it's called "the world's oldest profession". It's always been around, it always will be. We might as well bring it out into the open.
7.  It Would Reduce Violence Against Women: Prostitutes in America (mostly women) are vulnerable to violence from customers and pimps alike. A study of San Francisco prostitutes found that 82% had been assaulted and 68% had been raped while working as prostitutes. Another study of prostitutes in Colorado Springs found they were 18 times more likely to be murdered than non-prostitutes their age and race.
Legal Assitance: New Orleans Sex Workers Attorney
Elizabeth B. Carpenter is a Criminal Defense Attorney in the New Orleans area.  She represents many people who are accused of Prostitution related criminal offenses.
Please follow and like us: