The United States Supreme Court to Hear Argument on the Issue of Hotel Guest's Right to Privacy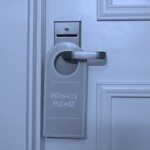 The US Supreme Court will examine a question of privacy as it concerns hotel and motel guest records during this session. The high court agreed to review a federal appeals court ruling that struck down a Los Angeles ordinance requiring that hotel guest records "be made available to any officer of the Los Angeles Police Department for inspection."
A divided Ninth U.S. Circuit Court of Appeals ruled this past December that the ordinance was unconstitutional under the Fourth Amendment, which guards against unreasonable searches and seizures. In my opinion, rightly so! The court concluded that hotels have an interest in keeping guest records private, even if the guests themselves have no such privacy rights because they willingly give their information to the hotel.  Of course, the reason travelers give that information to the hotel is because they have been on the road all day and are not going to let a phone number or address get in the way of a hot shower and a good night's sleep. After all when using a credit card to pay for our stay, like most of us do, we as customers expect this information to remain private. We don't expect it to be readily shared. At least without a good reason and proper legal procedure, like a judge ordered Search Warrant.
The ordinance at issue was approved by the city in 2006. It requires hotels to collect and maintain guest information such as name and address, the number of people in the guest's party, vehicle information, arrival and checkout dates, room number, and method of payment. Hotel operators who fail to comply with it face as many as 6 months behind bars and a $1,000 fine.
"A lot of the hotel owners in the L.A. area are being subject to warrantless searches under this ordinance," explained the lawyer for L.A. motel owners, Naranjibhai and Ramilaben Patel. According to court documents the Patels had been cited by police for failing to keep the required records at one of their motels, the Rio Palace Motor Inn.
As the law in the state of Louisiana stands now, it is a violation of your right of privacy if the hotel discloses to another (including Police) which room you are staying in, and all other personal information related to your registering. However, a hotel may disclose whether or not you are a guest at the hotel unless you expressly instruct them not to do so.
When it comes to your actual room rental, I feel the same privacy protection should extend.
Generally, if you are using your hotel room in an ordinary way, then you have a limited right of privacy in the room. However, if the hotel believes that you are engaging in illegal acts, then hotel management has the right to enter and search your room without your permission. Under no circumstances can the hotel authorize the police to conduct a search of your room without your consent or without a PROPER SEARCH WARRANT.
Of course, I will be watching this case and will report the Supreme's ruling.
Our freedom and liberty make us great.
Hey!  Officer Dan, you wanna look into my PERSONAL information, my room, car or wallet….get a court ordered SEARCH WARRANT!
Elizabeth Bagert Carpenter is a Criminal Defense Attorney in New Orleans.
Please follow and like us: